HYDRAULIC POSITIVE DOWNFEED
The DDF system (dual down feed system) has the capability of controlling both feed rate and feed force parameters to achieve optimum cutting results, and blade life.
BUILT-IN COOLANT DRAWER
Base features a built in coolant drawer with centrifugal pump. The pump delivers ample coolant to the cutting area.
SEMI-AUTOMATIC CONTROLLER
Equipped with a digital LCD display, control shows machine mode, pieces cut, blade speed, blade tension, amperage draw, cut duration, overall machine run time, and head position.
MECHANICAL LOCKING MITER SCALE
The easy swing head frame, with counter balance springs has a scale for the head miter position in 1° increments. A cam lock brake provides reliable locking at the desired angle.
The S-23P miters from 90° to 60°. Featuring a 16″H x 20″W capacity at 90°, 5.5 HP motor, and 1 1/4″ blade, the S-23P semi-automatic horizontal pivot band saw is built solidly to give you maximum productivity.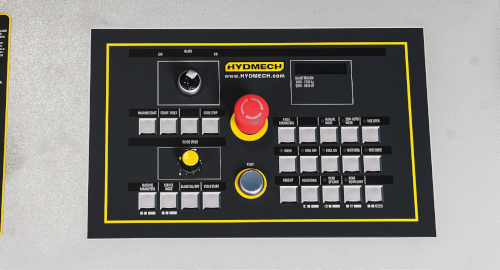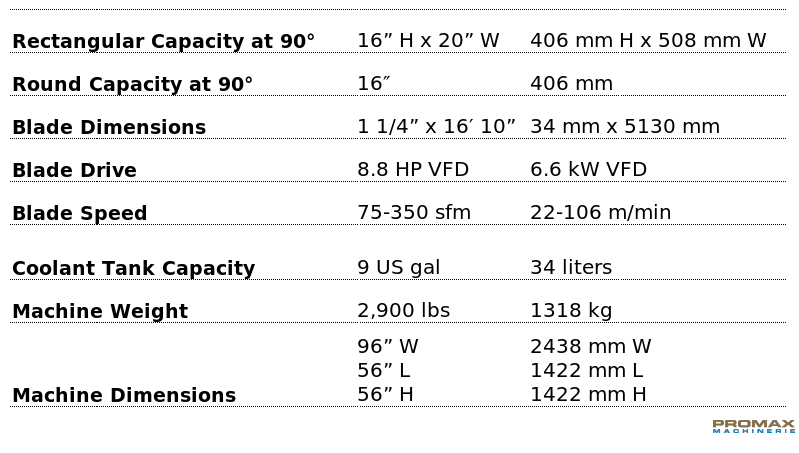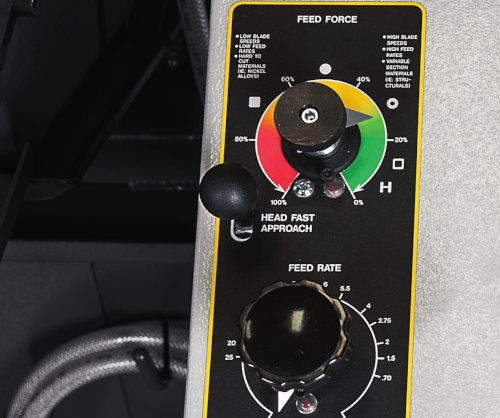 Semi-automatic control

1-1/4" blade width

Easy swing, heavy duty cast iron saw head provides durability, stiffness, and absorbs vibration that is

created during the cutting process.

Full capacity, full stroking hydraulic material vise

8.8 HP VFD True direct blade drive – no belts/pulleys.

Infinitely variable blade speed and LED readout on control panel

On-demand hydraulics save energy

20" out feed table

Blade breakage switch

Cast iron band wheels

Replaceable blade brush

Robust steel base

Easy to read angle scale with angle locking mechanism

Cast iron guide arms. Idler side guide arm is adjustable and supported by linear rail.

Easy access electrical panel

Hydraulic positive down feed provides easy adjustment of both feed rate and cutting pressure

Mechanical band tensioning with digital readout

Replaceable carbide guide inserts

Safety door interlocks

Flood coolant with wash down hose

Laser light

Work light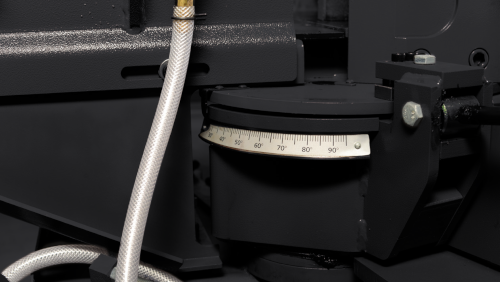 Full capacity hydraulic overhead bundling moves down on the material from above. Timed with the opening and closing of the side vise, it is very effective for bundle cutting various material shapes & sizes.
Mist lubrication
Variable vise pressure
Work stop
Idler conveyors
HYDMECH S-23P SEMI-AUTOMATIC HORIZONTAL PIVOT BAND SAW

Our objective is to continuously update our website with accurate information on our products. However, ProMaxMachinerie inc. cannot be held accountable for typographical errors or product formulation changes. For absolute accuracy, please consult the products specification. If you discover any inconsistencies on our website please Contact Us.