The machine's PLC 100 controller can be easily programmed for up to 99 different jobs. The easy programming of the E 300 interface, and the user-friendly manual control switches make for minimum job setup time and cost effective operation. The full capacity hydraulic overhead bundling clamps provide for efficient high production cutting of various material bundles.

The H-22A-120 is fast, with its high speed shuttle feed indexing up to 120″ in a single movement. Its standard 6° degree canted head allows for more efficient cutting and improved blade life.

Featuring a 20″ x 22″ capacity, 10 HP motor, and 2″ blade, the H-22A-120 is a reliable choice for all your heavy-duty horizontal metal cutting applications.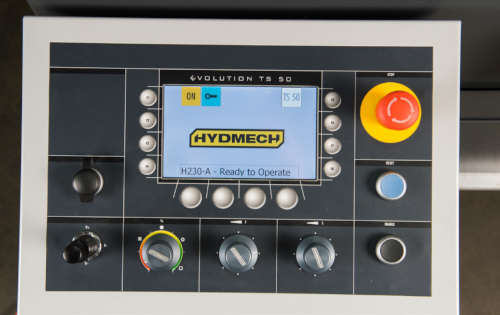 | | |
| --- | --- |
| Rectangular Capacity at 90° | 22" H x 22" W |
| Blade Size | 2″ x 22′ 6″ |
| Blade Drive | 10 HP |
| Operation | Automatic |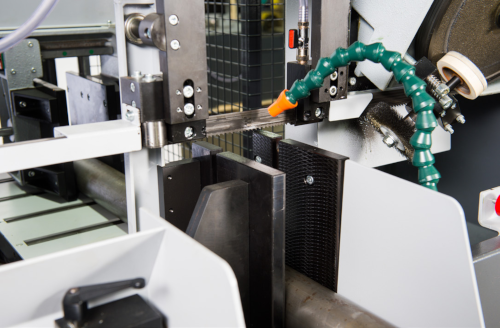 10 Hp Motor
120" Shuttle Stroke
2" Blade
Hydraulic Carbide Guides
Powered Blade Brush
Hydraulic Blade Tensioning
PLC Controls
6° Canted Head
Coolant System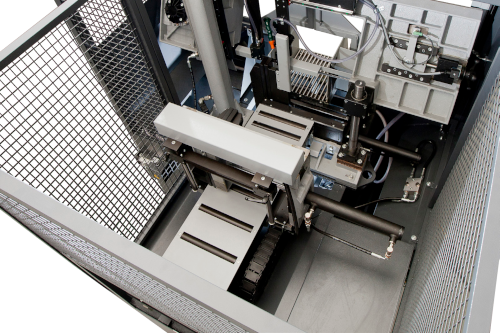 Out of Stock Switch

Vertical Rollers

Variable Vise Pressure

Mist Lubrication System
HYDMECH H-22A-120 HEAVY-DUTY, AUTOMATIC,
HORIZONTAL LONG BAR FEED BAND SAW

Our objective is to continuously update our website with accurate information on our products. However, ProMaxMachinerie inc. cannot be held accountable for typographical errors or product formulation changes. For absolute accuracy, please consult the products specification. If you discover any inconsistencies on our website please Contact Us.