CONTROL CONSOLE - DM-1318P
The DM-1318P is also equipped with a digital LCD display which shows machine mode, pieces cut, blade speed, blade tension, amperage draw of blade motor, cut duration, overall machine run time, head position language selection. Hydraulic head height selection using an encoder is controlled from the machine console.
OPTIONAL MIST LUBRICATION
An alternative to the standard flood coolant system, mist lubrication is an air mist system providing blade lubrication and cooling. No recovery is required as the mist dissipates.
5.5 HP TRUE DIRECT BLADE DRIVE
Heavy-duty 2-stage gearbox and motor is easily adjusted with a wide range of band speeds. Less moving parts compared to belt and pulley drive machines controlled by an AC inverter drive. Blade speed
Featuring a 13″H x 17 3/4″ W capacity at 90°, 5.5 HP motor, and 1 1/4″ blade, the DM-1318P is a versatile double miter band saw.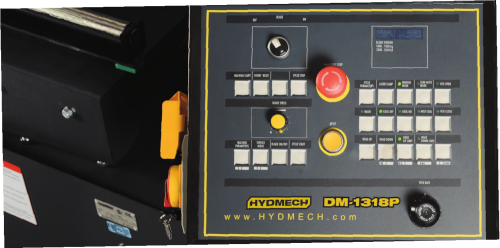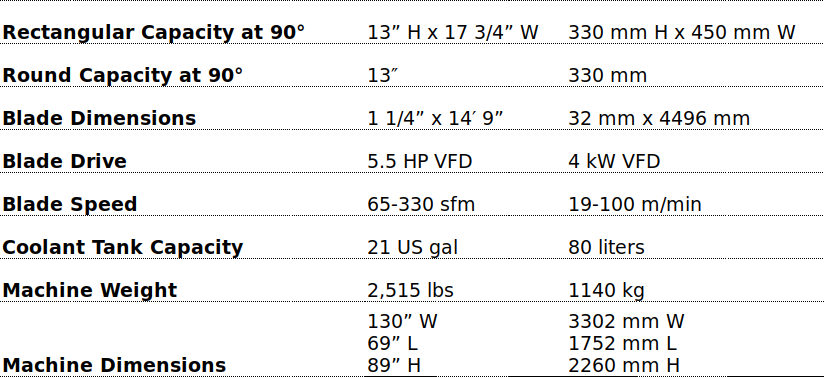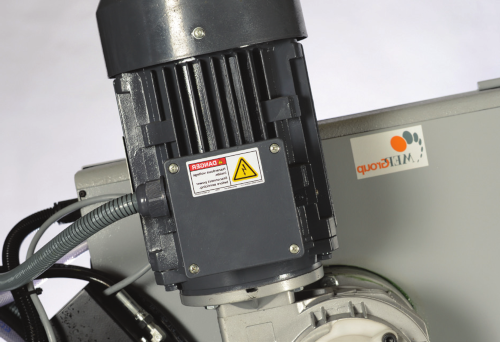 60° Mitering in both directions

Heavy duty cast iron saw head

5.5 HP true direct blade drive – no belts/pulleys

On-demand hydraulics save energy

Quick release, hydraulic cast-iron vise on linear ways

Rotating table with cut line

Mechanical band tensioning with digital readout

Gravity head feed

Automatic hydraulic head lifting in semi-automatic mode

Swing away, semi-automatic control

Replaceable blade brush

Robust steel base

Easy to read angle scale

Digital angle display

Adjustable guide arm

Replaceable carbide guide inserts

Mechanical blade tensioning

Safety door interlocks

Flood coolant

Laser light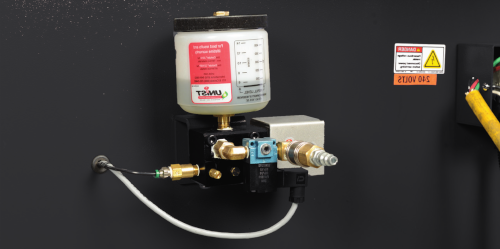 Mist lubrication

Work light

Variable vise pressure

Idler conveyors
HYDMECH DM-1318P DOUBLE MITER SEMI-AUTOMATIC BAND SAW

Our objective is to continuously update our website with accurate information on our products. However, ProMaxMachinerie inc. cannot be held accountable for typographical errors or product formulation changes. For absolute accuracy, please consult the products specification. If you discover any inconsistencies on our website please Contact Us.